Claim your
FREE

Case of blk. Water
Normally: $21.99 - With this offer, you only pay $11.99 for shipping.
 100% Satisfaction Guaranteed | No Code Necessary
Hurry! This offer won't last long.
blk. All-Natural Alkaline Water gives your body the immune boost it needs.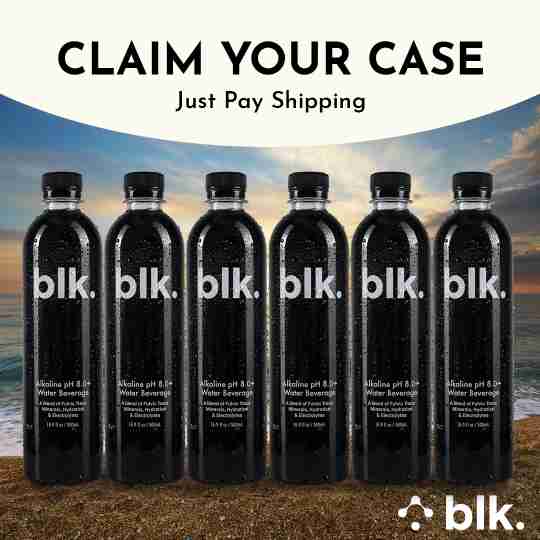 Why drink blk.?
blk. functional beverage is all-natural. It features fulvic minerals which help boost your immune system. It assists in removing free radicals and toxins. blk. restores & repairs. Zero Calories - Zero Sugars - Zero Carbs. This is clean, healthy, drinking at its finest. Give your body what it wants? 
Hear What Our Customers Have To Say
Frequently Asked Questions
Nutrient-rich fulvic minerals are naturally dark in color. When added to water they turn the water black, naturally! There are no additional dyes or colors added to blk.


What exactly are fulvic minerals & what are their health benefits?

Fulvic compounds are found in plants and soil in the highly nutritious humus layer of the earth. An ancient, naturally-occurring part of the botanical cycle, they have been shown to help the human body effectively break down, absorb, and transport key bioavailable nutrients.

Where is the water in blk. sourced?

Purified alkaline water is the base of blk. We carefully source it from multiple locales, including aquifers in the United States and Canada.

Will blk. stain my teeth?

Don't worry, your pearly whites are safe with us! blk. won't stain your teeth.

Can you drink too much blk. water?

Our hope is that you replace all your regular water with blk. water because of the added bioavailable trace minerals.Claim this offer now. 
Normally: $21.99 - With this offer, you only pay $11.99 for shipping.
 100% Satisfaction Guaranteed | No Code Necessary